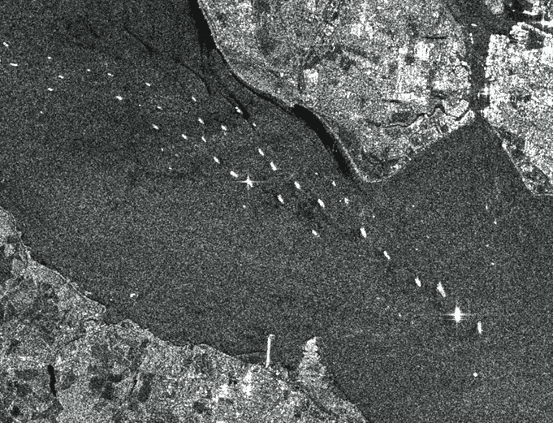 The benefits of using satellite imagery for maritime monitoring is well known and widely used. Synthetic Aperture Radar(SAR)  imagery is particularly well suited for detecting vessels at sea. With its ability to cover huge areas and sense through darkness and clouds while maintaining excellent detectability, SAR satellites can provide a cost efficient and reliable marine monitoring solution.
By combining the NRT downlink and SAR processing chain in EOPORT with world class vessel detection algorithms, vessels can be detected in SAR imagery faster than ever before in the offered Vessel Detection Service.
Unlike the traditional serial approach performing one processing step at a time, the offered service is working directly on the SAR data stream. Uniquely, the service can therefore output detected vessels even while the imagery is still being downlinked from the satellite to the antenna.
Supported input satellite data
Sentinel-1 A and B, as delivered in stream of bursts from the NRTSAR processor component.
Supported output format
a) One standard GeoJSON Feature Collection with one Feature per detected vessel at completion of downlink and processing.
b) Stream of standard GeoJSON Features, delivered as soon as vessel detection has them ready. Delivered as REST POST callback to configurable endpoint.
Price model
Vessel detection is priced at $200 per 100.000 km2. $0,002 per km2.
SLA
The vessel detection service has uptime of 97% over a month. Vessel detections for a given acquisition of Sentinel-1 SAR data is delivered inside of three minutes of last SAR data burst being processed.
KSAT provides a variety of products derived from both Synthetic Aperture Radar (SAR) and high-resolution optical satellite data.
The key focus is maritime situational awareness, which includes Near Real-Time (NRT) vessel detection and oil spill monitoring, ice monitoring as well as forestry- and land monitoring.
For more information please visit: www.ksat.no
See the entire marketplace