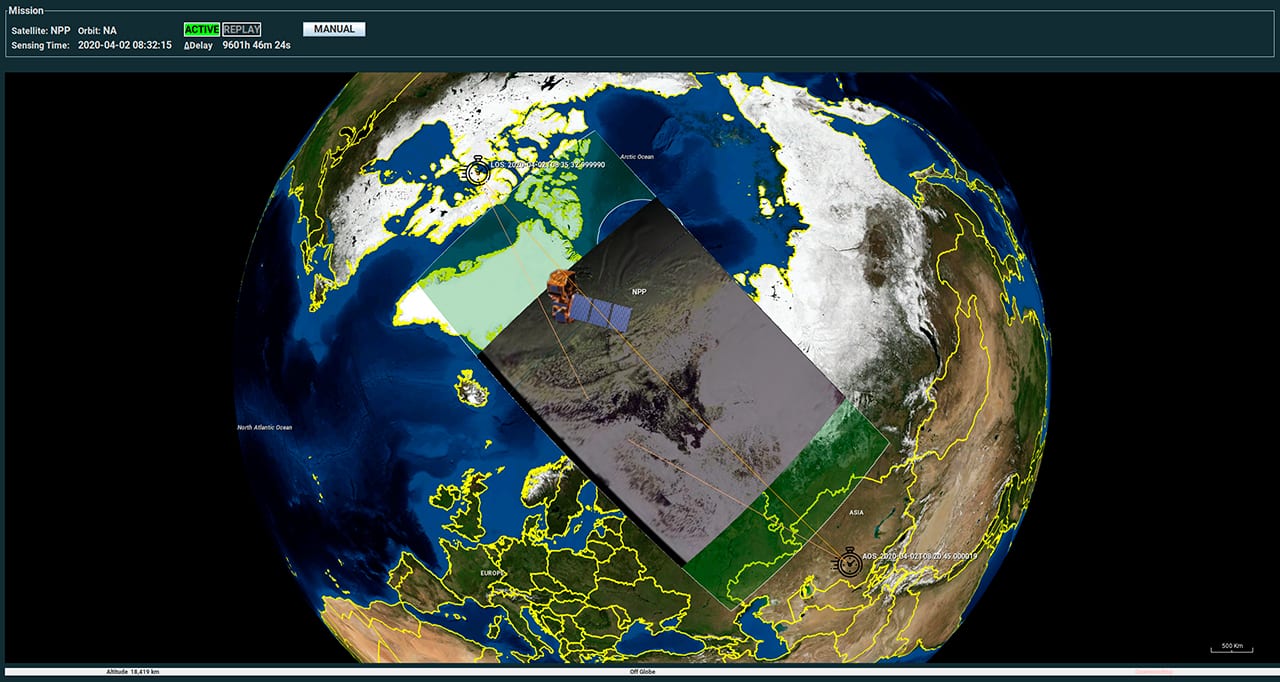 Kongsberg Defence & Aerospace AS
Near Real Time EO Data visualization service
The VideoWall service gives you the opportunity to watch quick-look imagery – live – from EOPORT.
Quick-look images are often used by ground station operators to visually inspect the data acquisition quality during the pass.
Using EOPORT capabilities to work with live data from ground stations the VideoWall service enable users to view satellite imagery geolocated in our VideoWall client running NASA WorldWind virtual globe.
Now including Synthetic Aperture Radar (SAR) imagery as well, displayed tile-by-tile while data transmission is taking place at the ground station.
How to use
As a registered user of the EOPORT platform you can select ground stations and satellite missions to monitor during your subscription period.
Download and install the VideoWall client software and then log in to EOPORT to start receiving .kml files according to your subscription setup.
SATELLITES
Sentinel-1A and Sentinel-1B
Suomi NPP
GROUND STATION
Tromsø Satellite Ground Station
Kongsberg Defence & Aerospace AS
The Space activity of KONGSBERG (kongsberg.com/space) delivers a broad spectrum of equipment, systems and services related to space and maritime surveillance customers in more than 40 countries.
The division is a world-leading supplier of satellite ground stations for downloading and processing satellite data, as well as a supplier of satellite services from ground stations at Svalbard in the Arctic, the Antarctic and numerous other locations.
The Space Ground Systems department is located in Tromsø, Norway, and has developed and deployed  numerous turn-key ground station solutions world-wide, and is the proud provider of satellite  reception equipment and Front-End-Processors delivering key services for all Sentinel missions.
Our Multi-mission Earth Observation System product portfolio has been utilized by key actors like ESA, EUMETSAT, NASA and a large variety of meteorological entities throughout the world.
See the entire marketplace